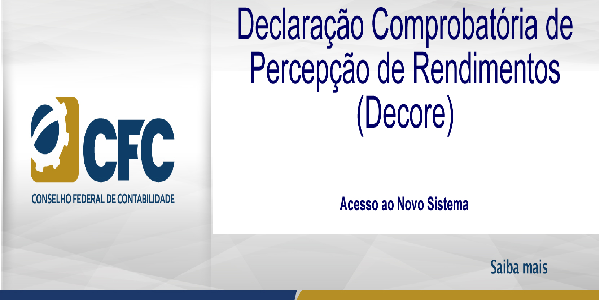 Proof of Income
It is the responsibility of the accountant, by legal documentation and meeting requirements set out in Resolution CFC, drawing up the DECORATE – Supporting Income Statement. We are able to provide this kind of statement.
There are prerequisites for the DECORES issued, mainly referring to documents that are presented to the counter for its preparation. We listed some FAQ – Frequently asked questions with answers so that you are informed (CLICK HERE, SEE THE FAQ).
In so many cases, institutions in general (mainly banks), request DECORE for proof of income of self-employed and similar workers. It is important to remember that DECORE is not a substitute for the annual income tax return that must be submitted by the end of April.
Remuneration of entrepreneurs
What we call "management fees" It is the remuneration of the formal business owner, that is, legally constituted. This remuneration is also requested by financial institutions and other institutions with which the beneficiaries are claiming some credit: the payroll management fees.
In this case it is not necessary to prepare a DECORATE businessman with duly registered company. Nowadays values ​​and decreased bureaucracy for starting a business, we are ready to provide you with a free quote! But if you need a DECORATE tell us!
Please follow and like us:
And if there is a change of plan, as pay?
changes in plans always happen in the business world especially when you work with us, when your company START GROWING MARKET, hiring more employees, increasing revenues, requiring more attention from the accounting. These factors imply a change of plans on the recovery of fees and is provided in our Service Delivery Agreement.
Please follow and like us:
I have to sign a contract with expert?
In the business world we are convinced that all things should be documented, by the way, By working with accounting only this gives us this conviction. well, our Service Delivery Agreement, signed by the parties, It guarantees them a transparency about our obligation to your company and meets the standards of regional Council of Accounting – CRC-GO, regulating our profession. Therefore, in rare cases a contract is not signed, such as temporary or immediate services. In the other case we will make the appropriate contract and request the signature of our customers.
Please follow and like us: